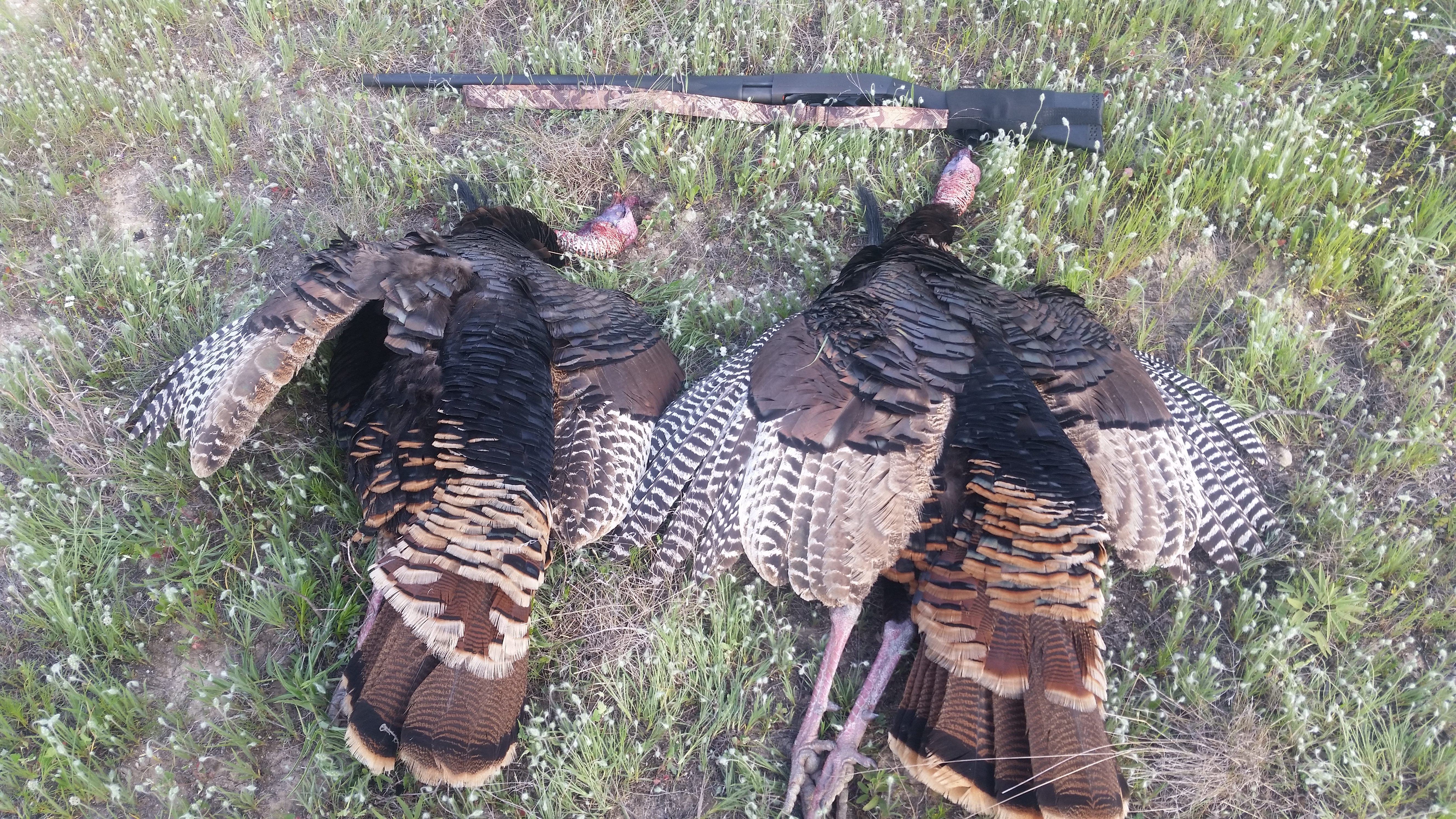 Turkey hunting! It is the beginning of spring when the trees are greening, the bluebonnets and wildflowers are blooming and the birds are gobbling!
But it is the challenge of the hunt that makes it so fun.  Getting geared and camo'd up, waking up early, witnessing a beautiful sunrise and walking for miles to find that perfect gobbler is what it is all about.  And it all pays off when you engage a big Tom and convince him to come in to you for a nice helping of lead shot.
You've been calling on your slate call for a while and are starting to get pretty tired walking miles through the thick, pastures and fields when all of a sudden finally, a Tom gobbles back at you.  
You call again and he gobbles back again.  You know he is in to you. Your excitement grows!
Your gut tells you that he is close enough and that now is the time to find a good spot to sit and wait for him.  You see a live oak with some good under brush that will conceal you and you place your hen decoy about 10-15 yards out in front of you in the relatively open area between the trees.
He gobbles louder and louder but then after a while he stops talking. You wonder if he has moved on. But from experience you just know that he is probably very close and still sneaking in to where you are sitting.  
You still ask yourself, "should I move to get a better spot, or maybe try to go to him?" but you also know that if you do, he'll probably spot you since in your experience more than likely he is right around the corner.
So you wait and wait…and sometimes wait some more.  Your adrenaline is starting to really pump as you hone your senses trying to hear his silent steps or make out some movement through thick trees and shrubs.
You may have been holding up your shotgun for a while now so your arm muscles are starting to ache.  You try to negotiate with yourself to allow a little movement to readjust and get more comfortable but you're afraid again that you'd spook your trophy.
Then you hear a cluck or a small stick break or perhaps some grass and leaves slightly rustle. Your heart starts beating so hard if feels like it is going to bust out of your chest.
Then off to the right between two cedar bushes, there he is!  He has spotted your hen decoy! He is bobbing his head up and down and looking all around it trying to make her out and make sure the coast is clear.  
He seems like he is getting just as excited as you are and then he does it.  He fans so big you gulp.
You start breathing steady telling yourself "wait for him, wait for him…" as he is just slightly behind a small mesquite tree and out of reach of your gun.
"As soon as he steps free….."
Then wait!  What is this??  Another big beautiful Tom!!  The second one is following the first in from behind the cedar tree.  Now you have a decision to make. Do you go for both?
You decided quickly that the ethical and right thing to do is to make sure you harvest the first one cleanly and then and only then if the second one is still around can you try again.
The first bird is now free of the mesquite tree and the shot is yours. You breath steady and look down the barrel pointing the dot at the base of his neck.  You am just waiting for him to stop and stand still for one second.
He hesitates. Now's the time! You pull the trigger and the Tom drops. An immediate sense of jubilation, happiness and relief washes over you as you're proud that you've got your Tom!
Your smile can be seen from a mile away!
But wait, the second bird hasn't moved.  He's stunned by what just happened. You cycle another shell into your gun.  You quickly determine that you have a clean shot available to you so you re-aim and fire!  Down goes Tom 2!!
Wow, what a morning!   Both Toms are worthy additions to your trophy wall with their long beards and impressive spurs.  You can't wait to get back to the lodge to tell your story to your buddies and see if they've had any luck as well.
As you stand over your birds you feel a sense of humbleness and you thank the birds for the experience they gave you and the meat they will provide you and your family.
You never forget the respect you have for the birds and animals you are blessed to be able to hunt.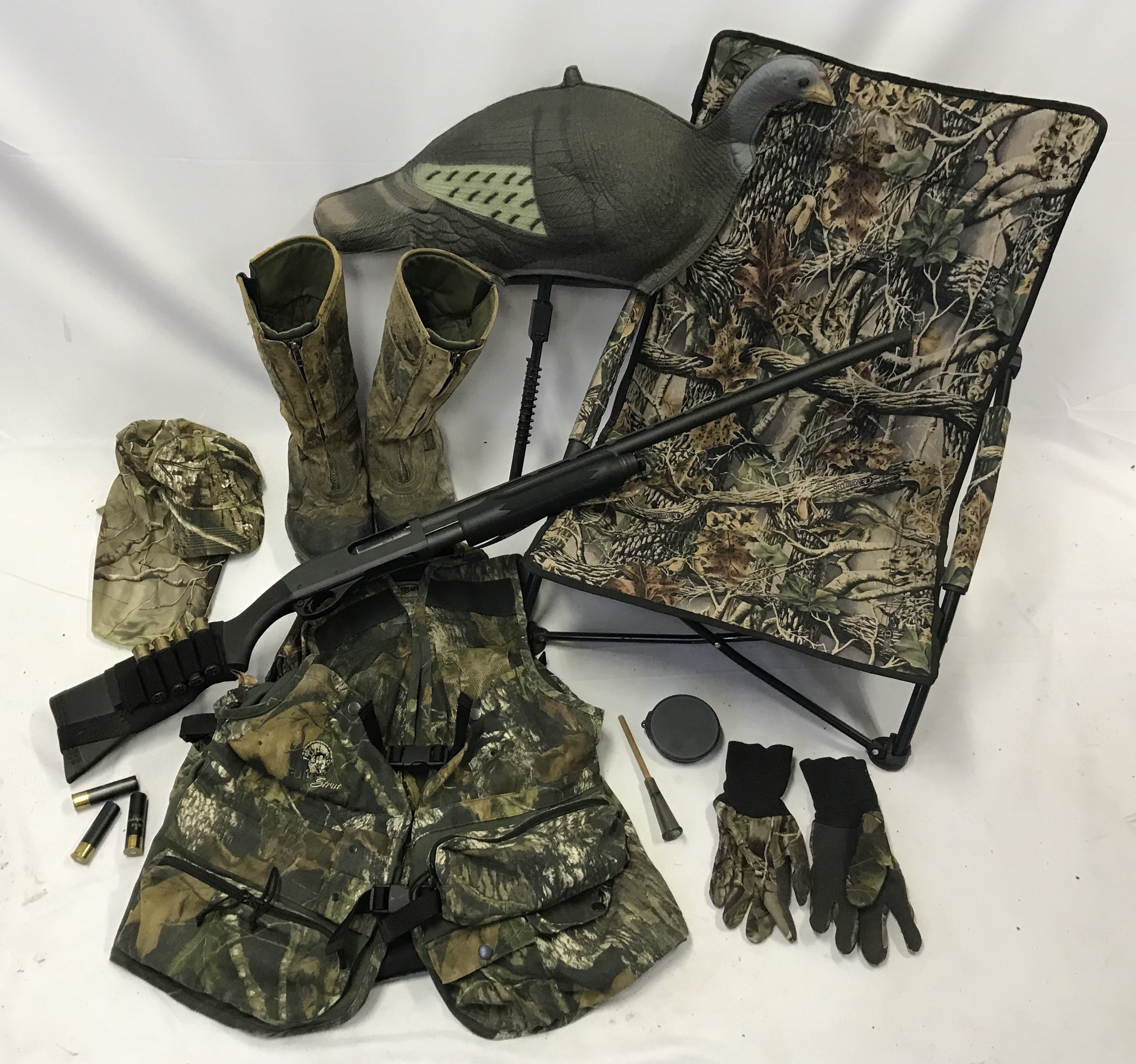 The only gear you need for turkey hunting
Wow, what a hunt! Now how do you ensure that you have that same type of success while out in the field?
Getting a chance at more than one tom in a single sitting is a lucky and amazing experience that I've only had twice in my hunting career.
But as is usually the case if you only have a chance at one having the proper turkey hunting gear when the time is right will ensure you're ready to harvest your trophy!  All you have to do is bring the aim and guts!
I am lucky enough to have access to family and friend's land to hunt turkey and deer which has allowed me to save a lot of money on a lease but that still hasn't meant that I've then had an excuse to spend a fortune on my gear.
Having the right turkey hunting gear is key but it shouldn't break the bank. As is true in most types of hunting you can get carried away and spend as much as your credit card can handle before melting.
In my experience though and especially in turkey hunting to get a trophy all you need are a few basic, affordable things.  
Other than guns and turkey load my favorite gear is below and I've gotten many a tom with these items throughout the seasons.
Boots
Our #1 most important item. First and foremost it is essential to be comfortable on your feet.  Comfort is defined by dryness and distance. You could be walking a whole lot, miles in fact, during your hunt so you want a boot that will allow you to be comfortable the whole time.
Perhaps even more important than a boot you can walk long distances in though is a boot that will keep your socks dry.  This is absolute key especially in the spring when there can be a lot of dew on the ground in the morning.
Trouncing through medium-high grass or crops with normal leather boots that will quickly soak up the moisture is a recipe for disaster.Waterproofing is essential so get a pair with at least Gore-tex lining or other moisture seal.
The last important item to consider in boots is snake protection. Depending upon where you are the early spring can be a perfect time to run into our sneaky slithering friends. Down here in Texas we have our heads on a swivel for our old buddy, the rattler. To help us out with this we make sure we are wearing boots with added snake protection.
Bottom line, a good pair of boots is not one article of gear to be penny wise and a pound foolish with. Luckily though there are many affordable options that give all the benefits mentioned above.
Chairs
Next, once you have the best boots you can find after all that walking you may also find yourself doing a lot of sitting close to the ground waiting for that tom that you were talking with to come into your setup.
Problem is toms sometimes take their sweet time and patience can be the difference between getting your trophy and being too uncomfortable and impatient causing you to get up too soon and scaring that very quiet trophy tom that was coming in just right around the bush.  
The second most important gear item to aid in your comfort while set up and waiting is a comfortable chair. It is worth its weight in gold. As we'll discuss next you can buy a turkey vest that has a padded seat attached to it but I highly recommend getting a turkey chair.
A turkey chair folds up just like a typical camp chair and can be carried on your shoulder. What great about it is that it sits low to the ground so you can nestle into tight areas and trees with low canopies to help conceal yourself.
The best part of the whole deal though is the backrest of the chair. Because the turkey chair is basically a camp chair with its legs cut short you get full back support no matter where you sit and the seat keeps you off the ground.
I've notice that this alone allows me to sit and not move far longer than I otherwise would sitting on the vest cushion. And an added benefit is my legs don't go numb like they used to either, LOL.
Get you one. While you'll have to carry it around with you on your shoulder you'll get the hang of it and I promise, you'll thank me.
Vests
Your turkey vest is crucial as it carries all the tools you need to get your gobbler. You'll need one that has enough compartments for the call your choice or several different calls, your gloves, your face mask, your knife, perhaps a small set of binoculars and your meat bags.
Since I've convinced you above to carry a nice turkey hunting chair you don't necessarily need a turkey vest with the build in seat cushion. I still use my old turkey vest with a built in cushion however because I have a bad back and I like how when it is folded up as I am sitting it give me added lower back support.
No need to go overboard on this item just make sure the vest has good compartments that will close properly such as with zippers because there is nothing worse than moving to another spot and settling in realizing that your slate call has fallen out of our vest somewhere.
Decoys
Decoys are great to use to get your tom all riled up and ready to come close to you. A hen decoy is all that is really needed but if you really want to make the tom jealous set her out with a jake decoy.
There is nothing funnier than watching a tom attack a jake decoy. You'll have to keep your laughing down to yourself and finally regain your composure though so as to not scare him off.  You can then put him out of his jealous rage with one shell.
Calls
You'll definitely want a way to talk to the turkeys and my favorite method is the good ole fashioned slate call.  For those of us who can't stand the thought or feeling of a mouth call (it gags me, there I said it), this is the tried and true way to go.
It takes some practice but once you get it down you can do all manners of calls depending upon what the situation requires.  One caveat though, it is hard to carry all your gear with you and use the slate call but once you get the hang of it you'll be holding court with toms in no time.
Full Camo
Turkey's have much better vision out in the bush than we do as humans.  A big part of turkey hunting is just trying to stay concealed from a turkey's view while you're chasing him.
You'll need some good camo that matches the terrain where you're hunting.  There really isn't any one size fits all but a good generic pattern and colors can go a long way.  Mossy Oak and Realtree patterns are great general camo patterns.
You'll also what to consider the climate of where you're hunting. As an example in Texas where I typically hunt turkey spring can be almost anything. It can be cold in the morning and hot by mid day or drizzling in the hot humid morning and sunny after a cold front has blown in by noon.
Just be sure to buy camo that helps you handle the weather wherever you are or can fit over winter weather gear if you are hunting in the cold.
Hats and Facemasks

As with camo shirts and pants you'll need a good face mask to cover up that mug from prying eyes.  I love the hat with the built in mesh as it also helps block out the sun when I happen to be sitting facing east in the morning or west in the evening.
At camo hat with built in mesh makes it so much easier to simply shake down the face mask when sitting and you're ready to go.  No need to mess with putting on a mesh cover mask and then your hat. And you won't lose it as easily as a separate mesh face mask which is an added plus.
Gloves
Now that you've covered up most all you body finally you've got to cover up your hands as well.  If you're in a moderate climate and you have good circulation keeping them warm most of the time be sure to get some nice light weight gloves that allow you to shoot comfortably with them on.
You won't want to be taking them off to shoot when that tom is right in front of you. If you are in a cold weather area get the winter gloves with the trigger finger. Of course you may already have a pair though for deer hunting so you could just use those.
Take good care of your gear
As you can see you don't need the nicest, newest top of the line gear each year to have a successful turkey hunt.  Just be sure to get items that will make your hunt as comfortable as possible and the rest will take care of itself.  
My final piece of advice that I learned the hard way when I started hunting, be sure to always take the time to take good care of your gear and it will last for many, many years taking good care of you. And save you a bundle of money too.
Now get out there and wreck Tom's day!
P.S.
Send us a picture and story of your hunt and we'll post it here and on our Instagram!