How do you make sure that those big, hard earned dollars that you've spent on protein to help grow those trophies is only being enjoyed by your deer?
With CoonHoods, that's how!
$

75 –

$

175 (for hoods)


$

160 –

$

185 (for gravity head)


$

1,000 –

$

1,300  (for protein feeder)
Did you know…
That an adult raccoon can eat up to 5 lbs in a night!

It is estimated that raccoons are responsible for the consumption (or waste) of 30-40% of feed from non-guarded protein feeders

If you feed protein, you're likely spending $150-200 on raccoon PER FEEDER on your property in a year….
Don't let the Bandit win!
Available for over 15 different protein feeder models. 

Click below to contact CoonHood directly and order some hoods for your blinds today!
When you do be sure to mention you heard about them from Feed Bandit and you'll get 10% off your order!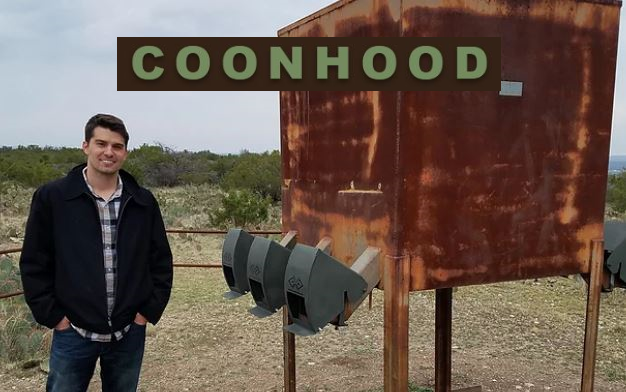 Check out our interview with Haden Popnoe, the owner of CoonHood!
What is CoonHood?
Coonhood is an innovative device used to prevent raccoons, along with other varmints, from accessing protein in chute-style feeders.
The patent pending design allows the unwanted animal's weight to lower the hood blocking access to the feed.
When no varmints are present, the hood remains in the upright neutral position which allows the larger intended animals to eat freely.
The bucks have no problem getting to the protein and the hoods are added protection against the rain. Get you some!
Why CoonHood?
With CoonHoods protecting your protein you will save money on your feed bill as well as reduce the amount of travel time required to keep your feeders filled.
When the intended game is the only thing eating from your feeders, you will be able to keep better track of your game and their consumption, which will make your wildlife operation more efficient and easier to manage.
I need to spend a couple hundred $ per feeder, are CoonHoods really worth it?
You must answer this question. To do so look at your game camera. Do you have coons stealing from your feeder? Estimate how much money you spend a month on protein, and calculate 25% of that cost.
Consider how long it would actually take for the CoonHoods to pay for themselves (If you have a severe coon problem calculate 40%). Most of you will find that within the first 3 months CoonHoods pay for themselves. Now consider the savings over a 5 to 10 year period. Not yet convinced?
Consider how much time and effort you spend picking up feed, driving out to the lease, and filling your feeders. Not to mention, setting traps, checking traps, and/or hunting coons. Now ask yourself, can you afford not to invest in CoonHoods?
How do you install CoonHoods?
​Coonhoods are designed specifically to fit your feeder. Each CoonHood bolts on easily in a matter of minutes. No alterations or modifications are needed to your existing feeder. ​
Installation of the 2 way head depends on your feeder and may require modification of your existing feeder or removal of the existing head. If existing bolt pattern is known let us know upon delivery and we can customize your flange free of charge!
CoonHoods are available for the following protein feeder models:
All Seasons 500lb Stand and Fill
All Seasons Pro Evo Series
All Sesons Tube
ASM
Atascosa
Bighorn
Boss Buck 3-way Gravity Head
Boss Buck 4-way Gravity Head
Crossfire
HB
Outback
Starfire
Texas Hunter Products Extreme
Texas Wildlife Supply
Venado
 Trophy Caliber Innovations Saver Series Protein Feeder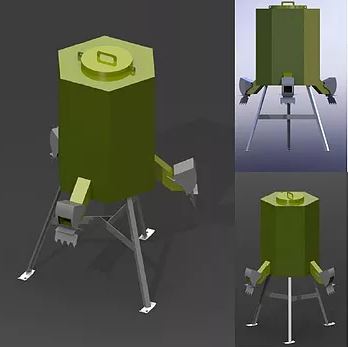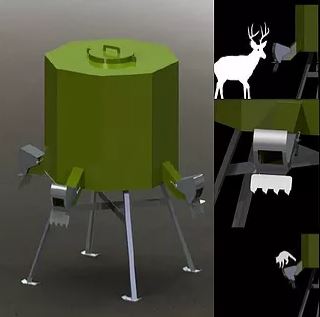 With a Saver Series Protein Feeder from Trophy Caliber Innovations featuring built-on CoonHoods, that's how!
The Saver Series is designed to be the most coon-proof gravity feed feeder line available.
Available in 900 or 2,000 lb capacity
Why the Saver Series Protein Feeders from Trophy Caliber Innovations?
The Saver Series Protein Feeders from Trophy Caliber Innovations are protein feeders with the CoonHoods already built on to the feeder.
It is much more cost effective to purchase one of our feeders than to purchase a competitors feeders and attachable Coonhoods.
So if you a considering purchasing a protein feeder from another manufacturer as well as some CoonHoods, please consider us!
Features:
16 gauge construction
Legs designed with "X" cross brace to eliminate bar directly below chutes (which coons typically stand on to access feed on competitor feeders
CoonHoods come built on and standard on all Trophy Caliber Innovations Protein Feeders
CoonHoods feature the bottom guard for added protection from below
CoonHoods are easily removable and replaceable
CoonHoods can be locked in "down" position to shut off access completely
No maintenance required
CoonHoods will save thousands over the life of your feeder by reducing loss to unwanted animals
The bottom plate features an internal pyramid to funnel and improve feed flow
The lid is easily removed and includes holes for locking
The skis are designed for sliding and include holes for staking
2-Way Gravity Head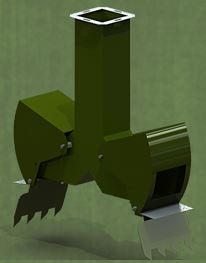 If you're the build-it-yourself type and have some barrel or homemade feeders or simply have some feeders with heads not compatible with the standard CoonHoods, the 2-Way Gravity Head is a complete unit designed to transform these feeders into coon-proof feed stations.
Available in 2 gravity head heights, 16″ and 24″.
Click below to contact CoonHood directly and order some hoods for your blinds today!
When you do be sure to mention you heard about them from Feed Bandit and you'll get 10% off your order!