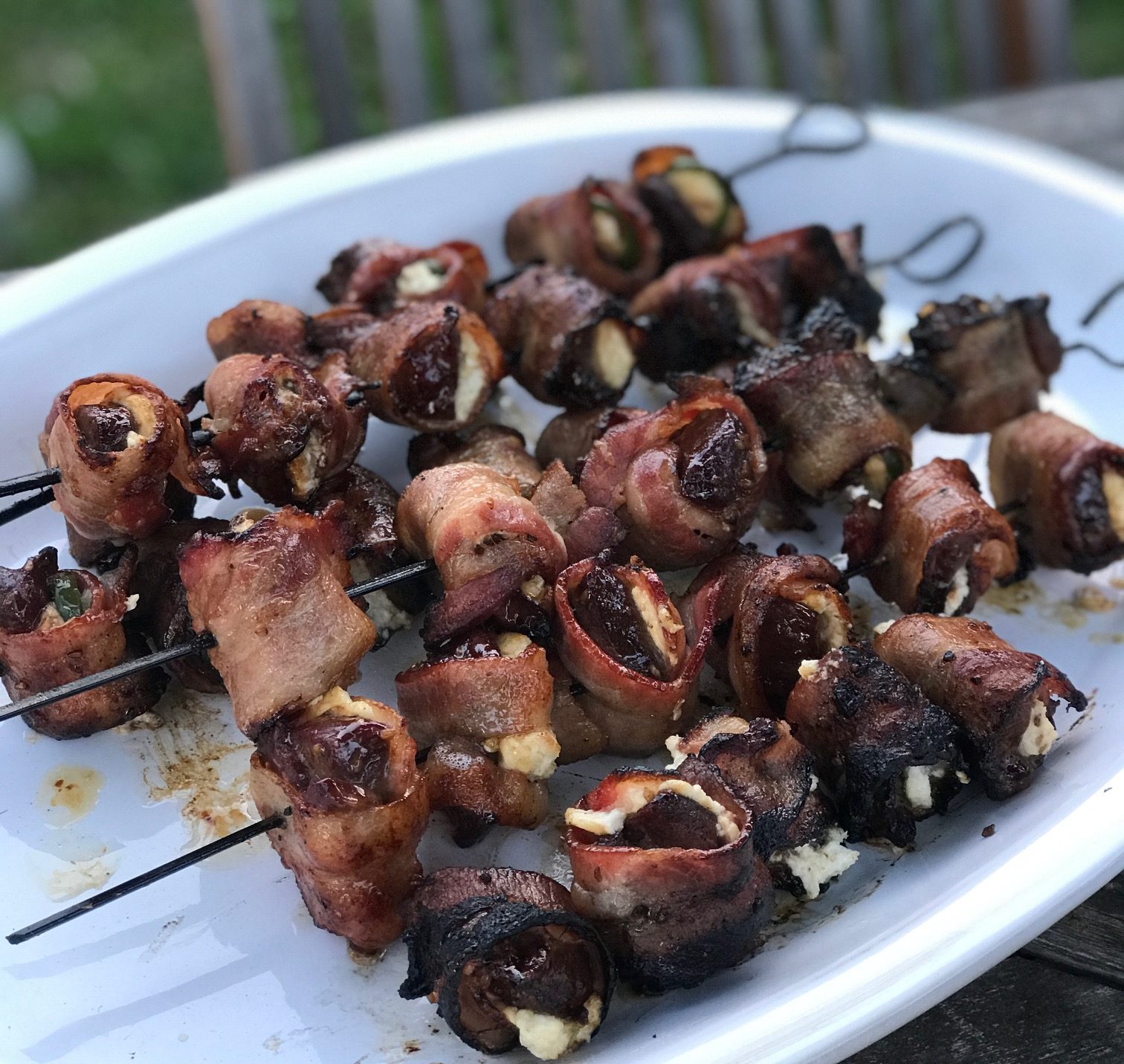 The Feed Bandit Bacon Wrapped Venison Backstrap or Deer Poppers is one of our favorite ways to enjoy our whitetail venison.  It is an easy meal to prepare and cook and it is always a hit with our entire family (yes even the "I don't like venison" crowd).
We like to use the backstrap for this meal.  We know what you're saying, "that's sacrilege using a prime cut!"  Yes, we understand completely and we've used all cuts of the deer for it but believe me, if you are blessed with having enough backstrap laying around to do it, it just make these poppers that much better.
Ingredients:
Directions:
After we have thoroughly bled out the venison we start with cutting the backstrap into cubes of about 1.5-2″.  We've found that an average sized mature deer backstrap can be cut in half and that meat would be enough to feed the family.
Once we're done cutting we like to marinate the venison in Kikkoman Marinade & Sauce Teriyaki, 10 oz (click to view on Amazon)
.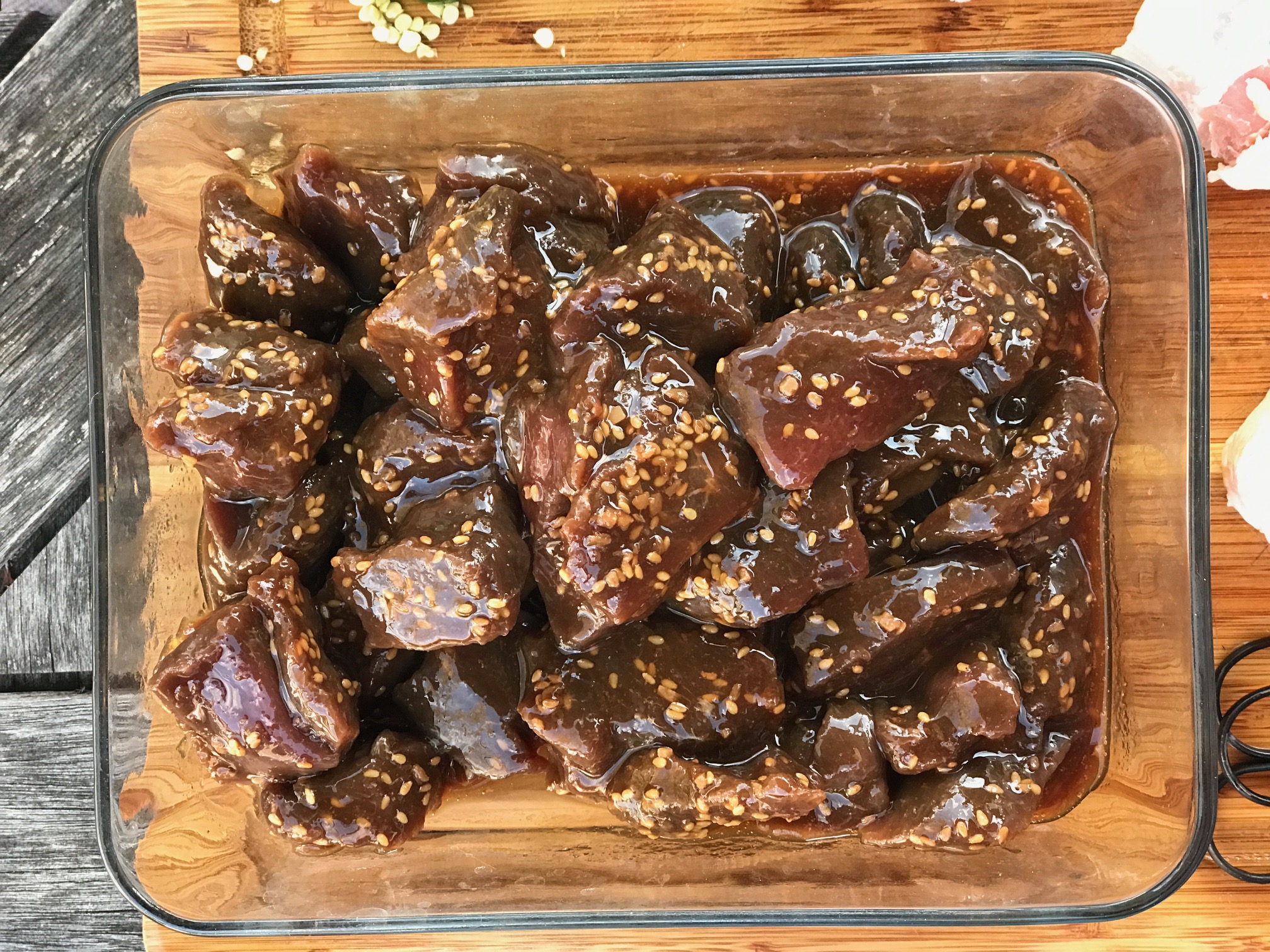 The marinade alone is our favorite in this case but if we're in the mood for more of a salty touch then we like to add Kikkoman Naturally Brewed Soy Sauce (413934) 20 oz (click to view on Amazon)
as well at a 50/50 ratio.
Fully submerge the meat and make sure the marinade has thoroughly covered all sides of every piece.  Cover and place in the refrigerator to marinate for about 3-6 hours.
Now the fun begins!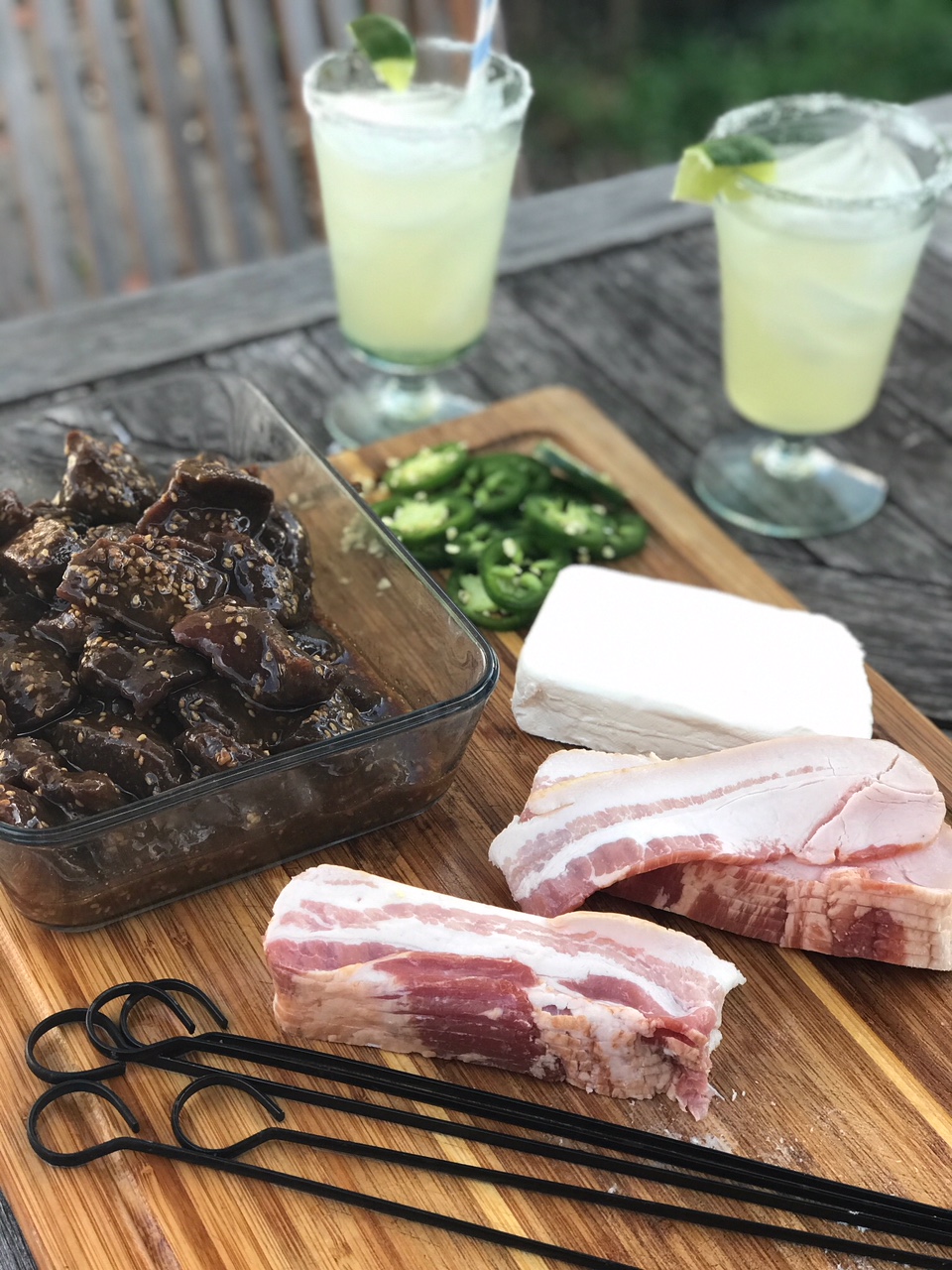 Once the meat is done marinading it is time to build your beautiful venison poppers.  Now it is key in the construction of this delicacy that the assembler be in a cheerful state of mind throughout the process.
So to achieve that the first thing we like to do is make a good strong adult beverage to sip on while building the poppers along with some good Texas country music such as Live Dinner Reunion (click to view on Amazon)
in the background (drink and music choice to taste).
Now that all is ready to go, cut your bacon into halves. Remember, thick cut bacon is ALWAYS best.
Slice your jalapeños into approximately 1/4″ slices (thicker for more spice, skinnier for less).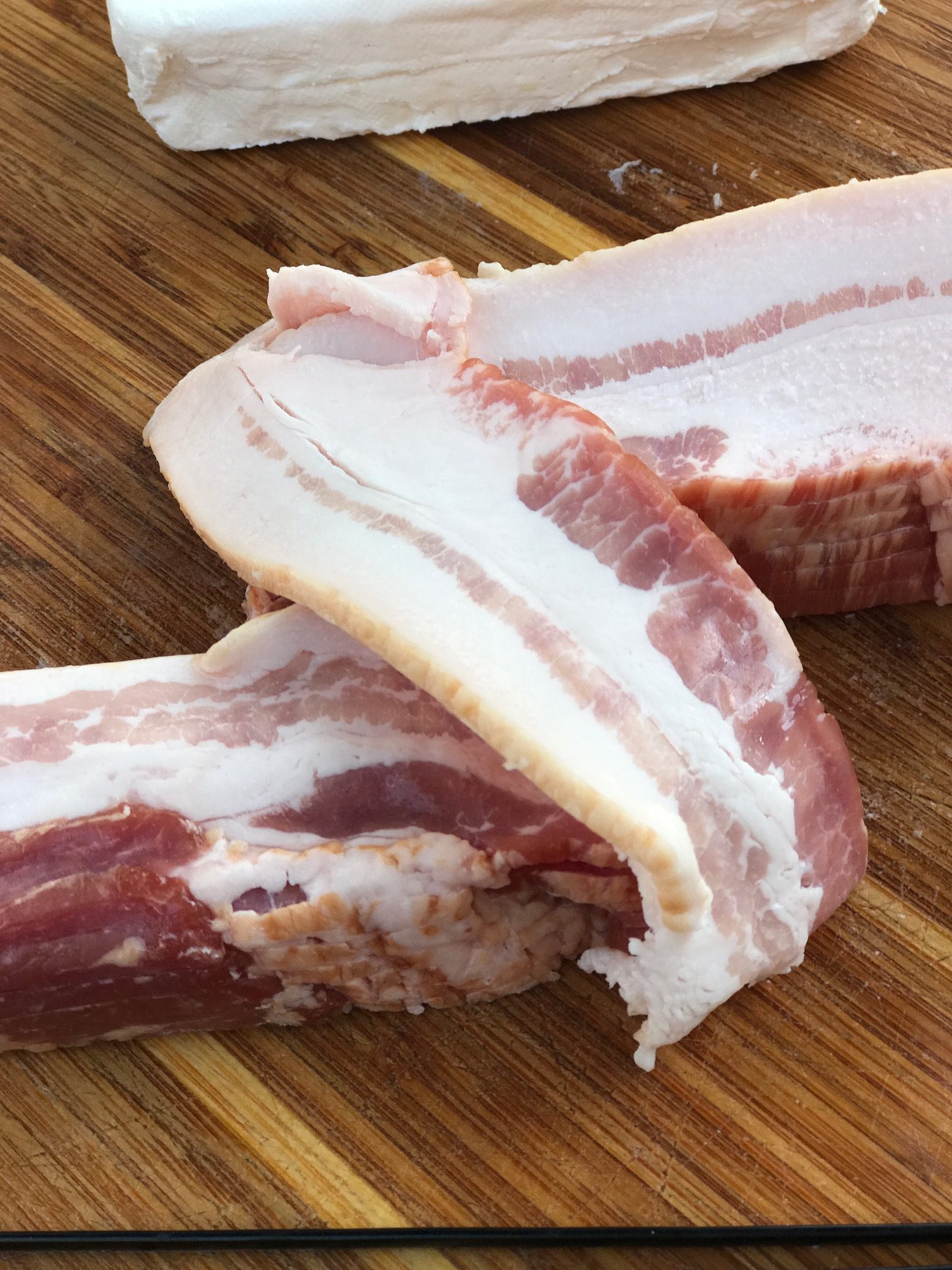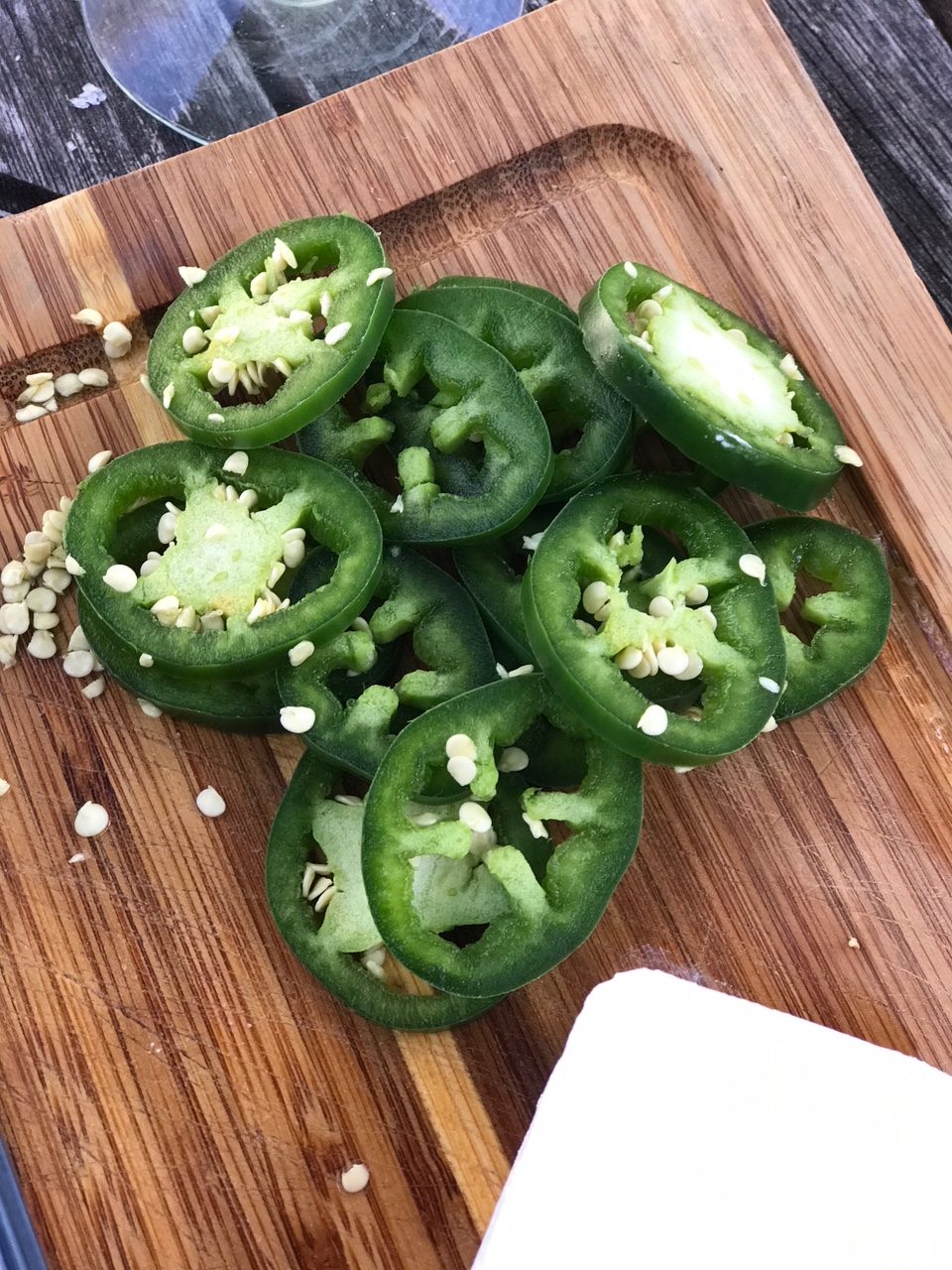 Make sure your block of cream cheese is ready to go and your skewers are within arms reach.  Now you're ready to build!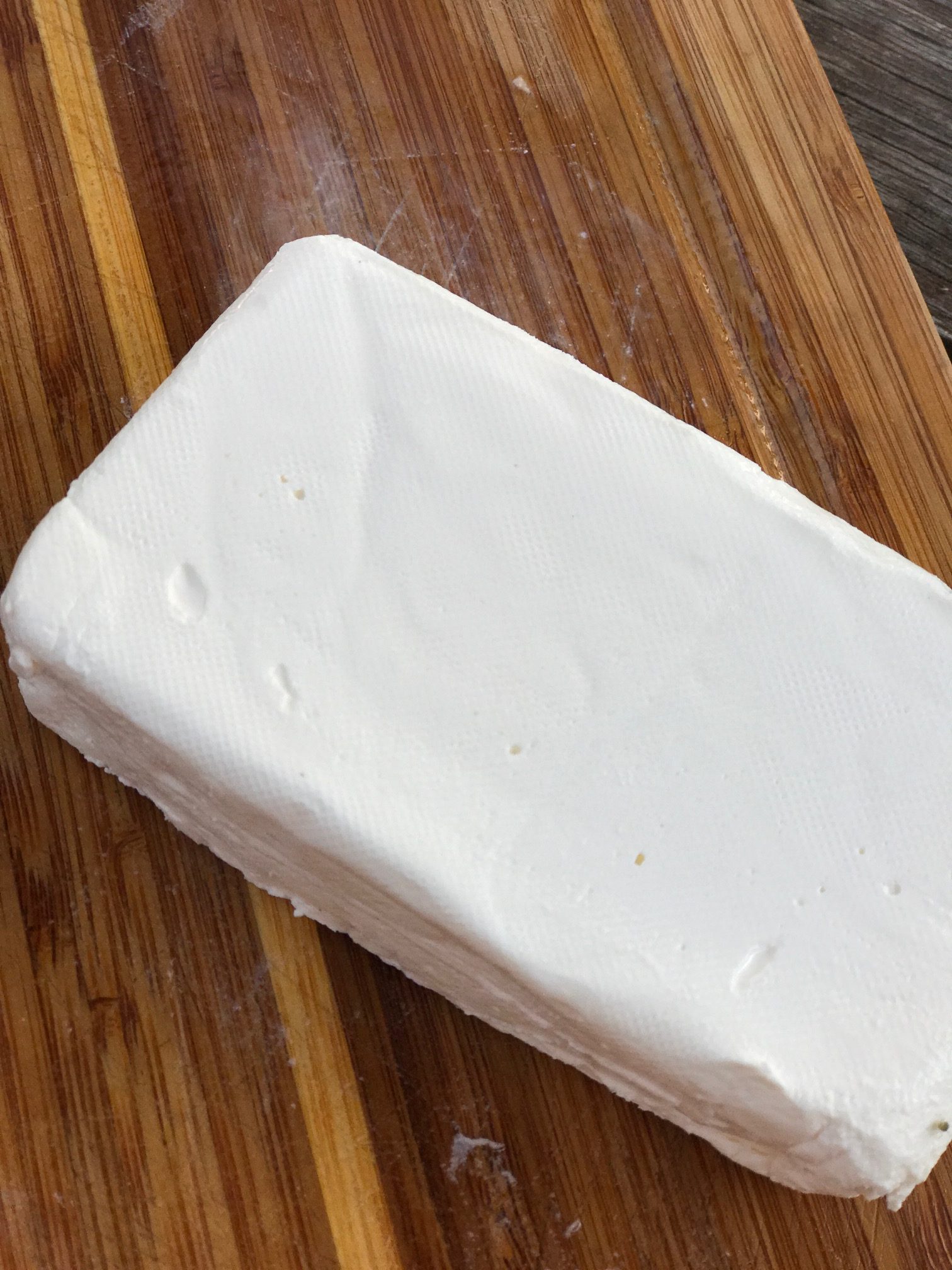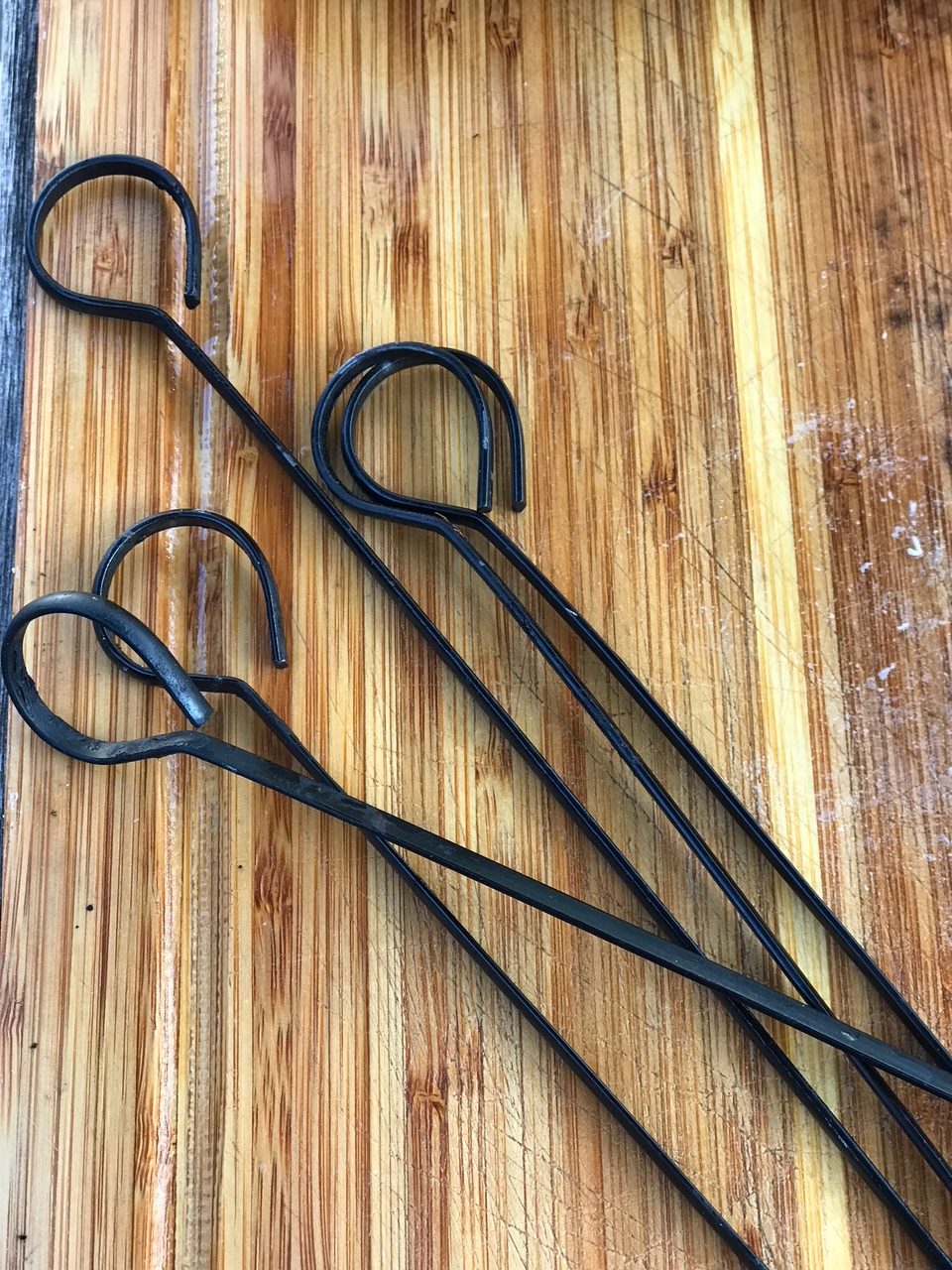 First, lay out one half bacon slice and place one slice of jalapeño on one end.  Then pinch off some cream cheese enough to cover the jalapeño and place it on top like so.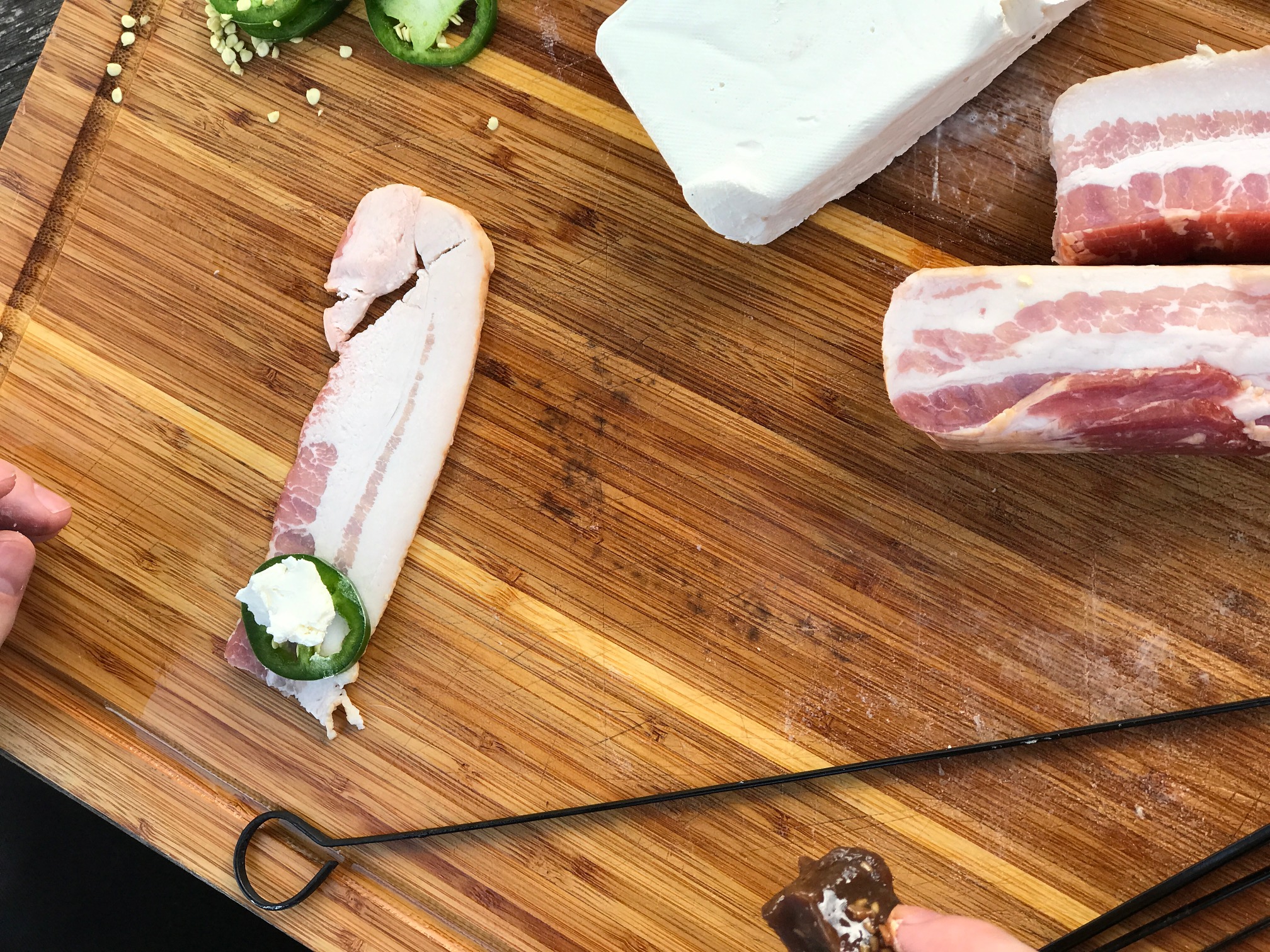 Then pull out a cube of venison and place that on top of the cheese, jalapeño and bacon then roll it all up.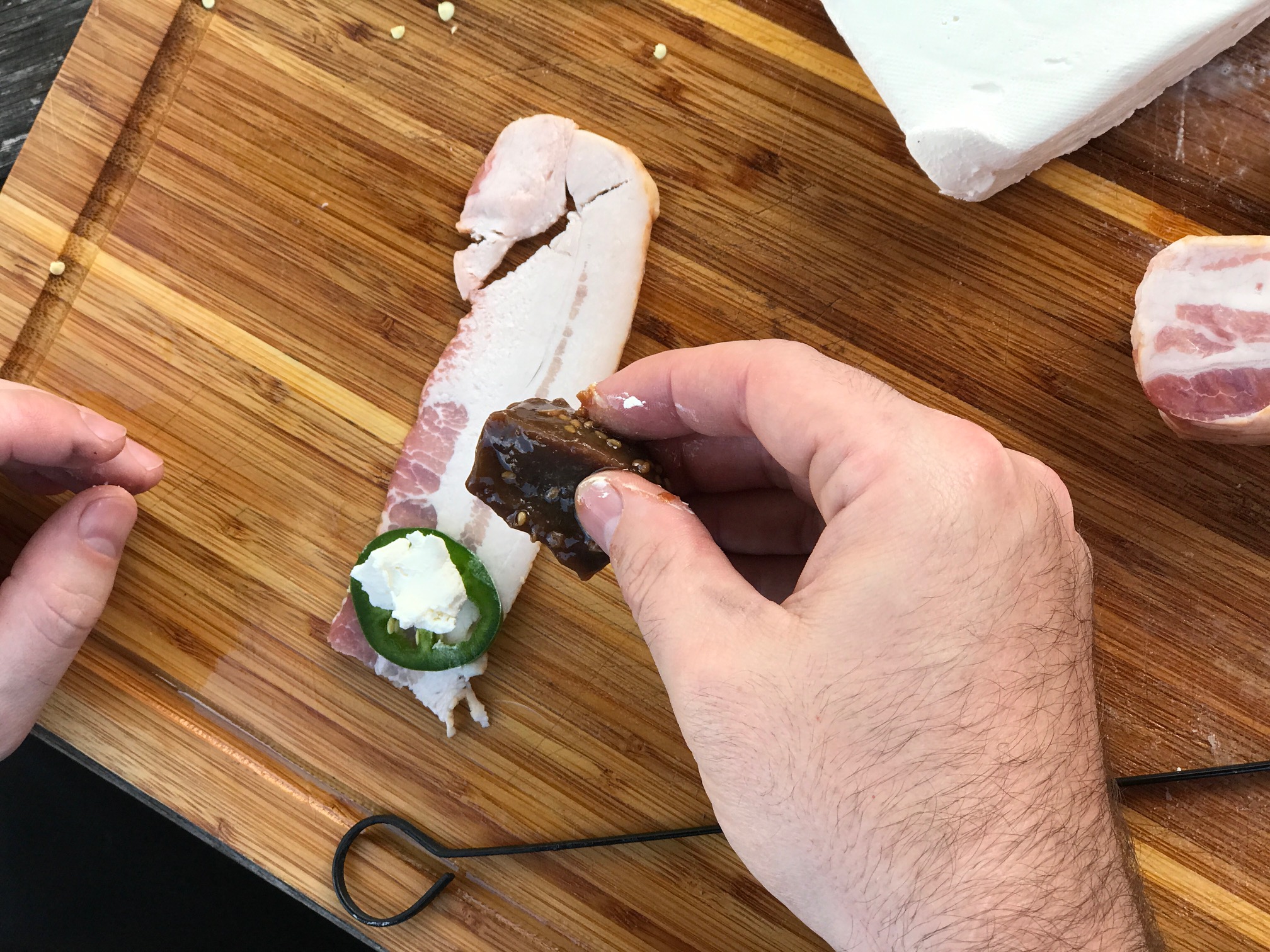 Next put the popper on your skewer. Be sure to place skewer through the kabob so that it holds all parts into the bacon.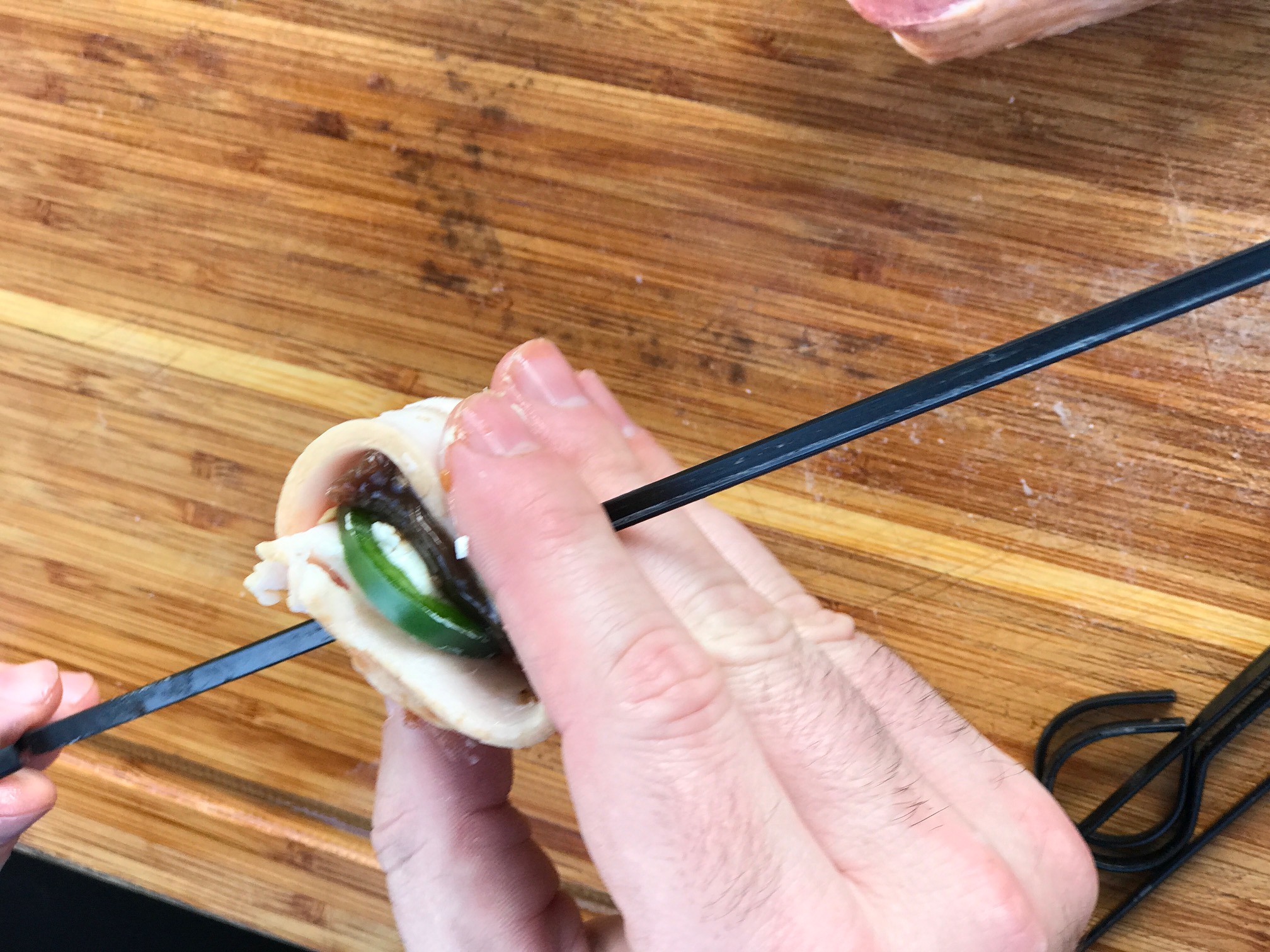 Now take a drink of your beverage then start again.  Repeat this process until you are done.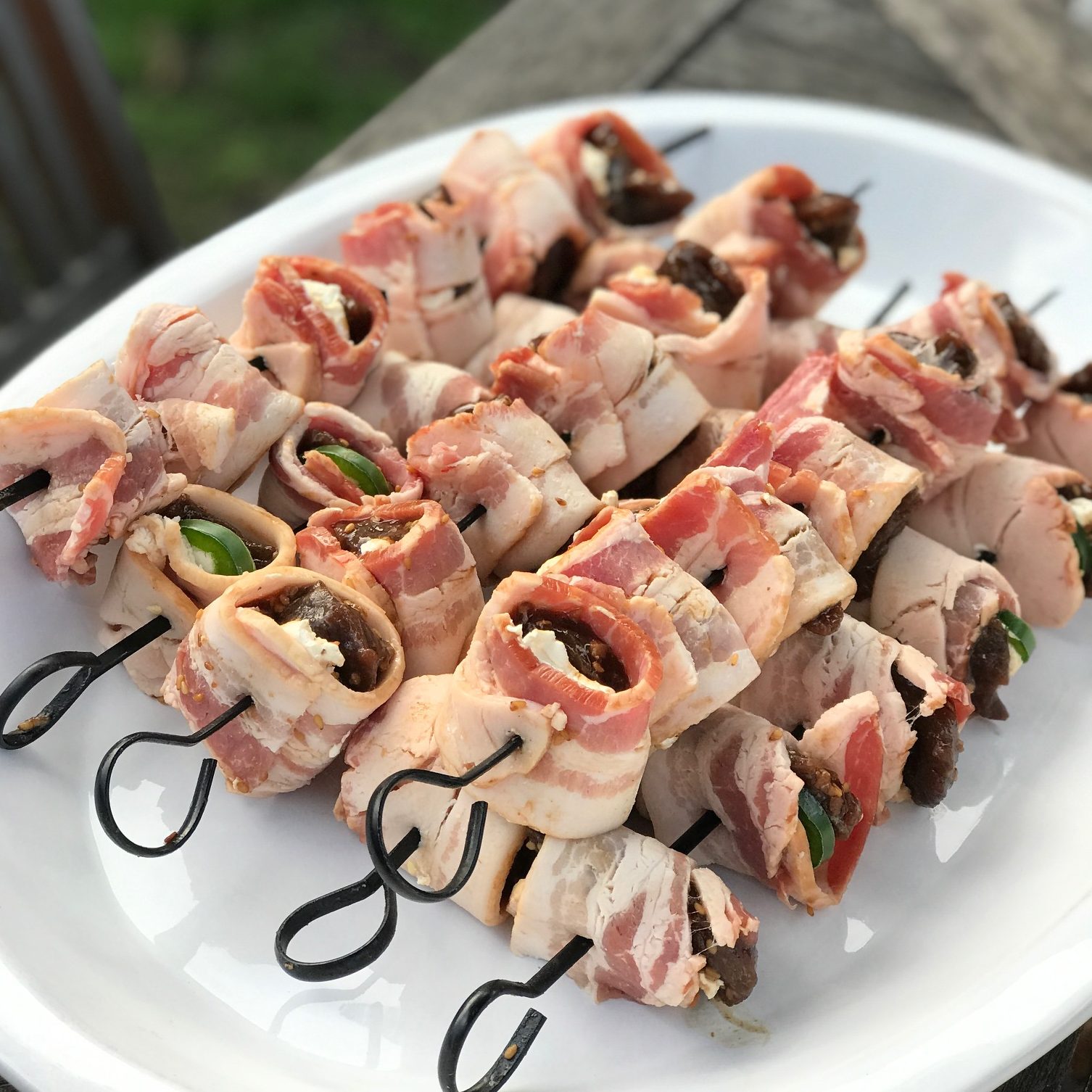 Now it's grill time.  We like to use a kabob rack with skewers for this meal.  The Shish Kabob Grill Rack with 6×14.5 inch Skewers (click to view on Amazon)
will work perfectly.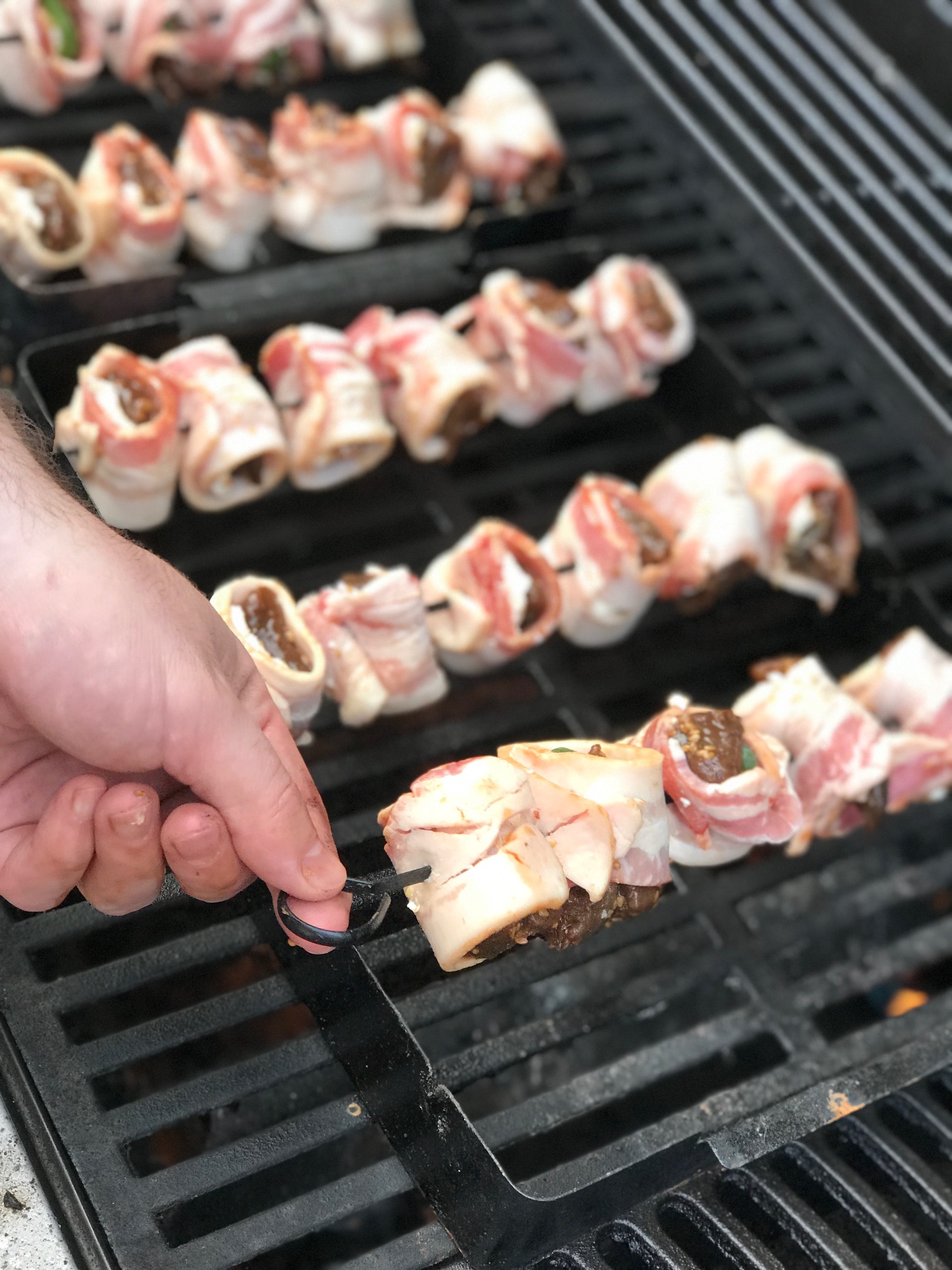 Because you're cooking with a lot of bacon over a flame there will no doubt be grease issues and such but if managed right the flare ups add a little crisp which just amplifies the overall taste of the popper.
We like to cook them primarily with an open grill top but we'll keep it closed for the first 3-5 minutes to get a good thorough heat going in all the parts.
As you're cooking be sure to rotate them on occasion so as to not burn one side over another.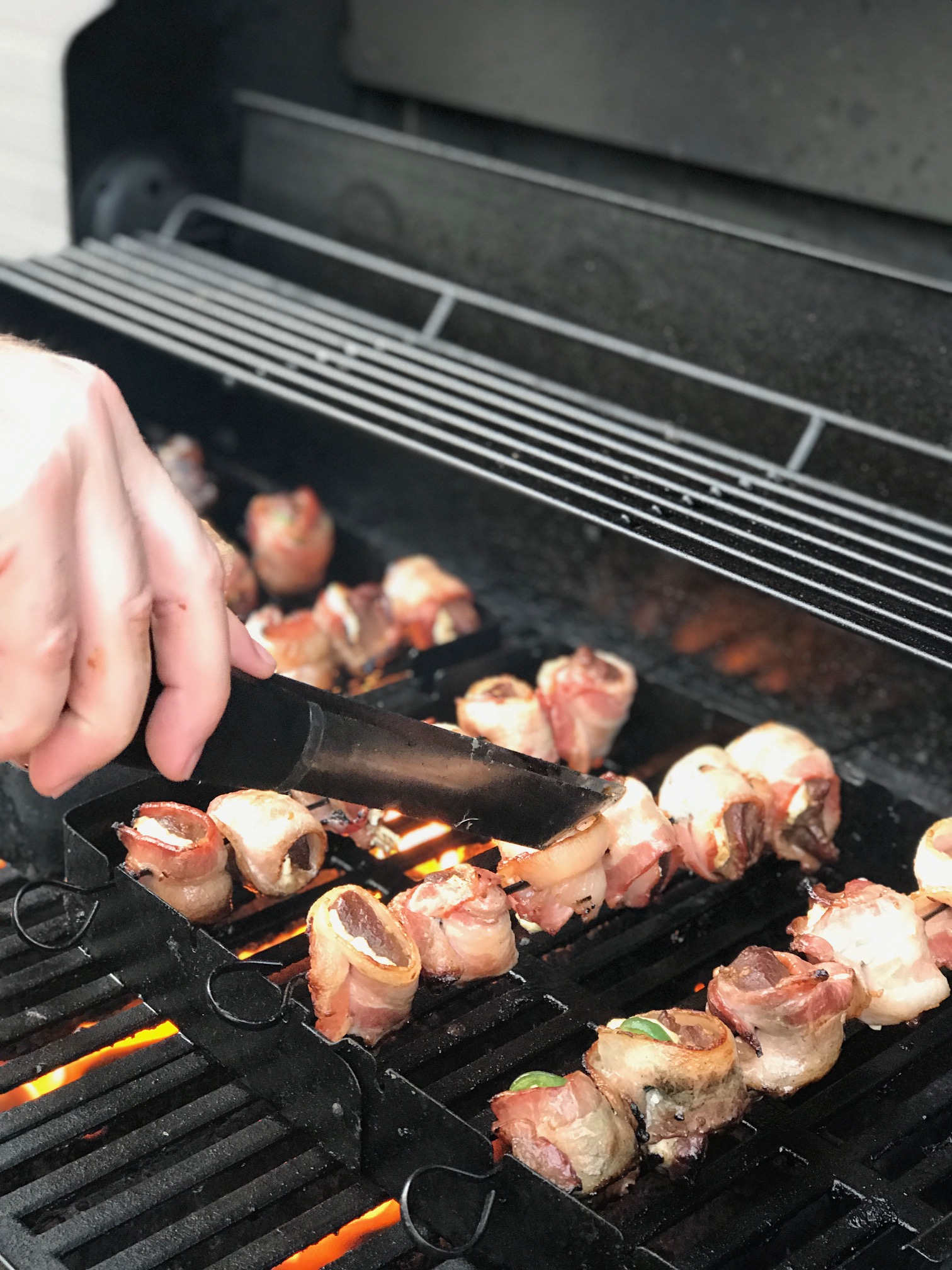 You'll know they're done when the bacon looks a little crisp, perhaps a little more so than cooking bacon for eggs in the morning.
[NOTE: These puppies taste just as good in the oven! When I cook them in the oven I usually fire it up to about 400 degrees.
I place them (still using the skewers) on a jerky rack sitting above a cookie sheet covered in aluminum foil to catch the bacon grease and not ruin the sheet.
I let them cook for about 20 minutes checking them around the 12 minute mark to eye ball them. I recommend this method if you have trouble with grease flair ups on your grill.]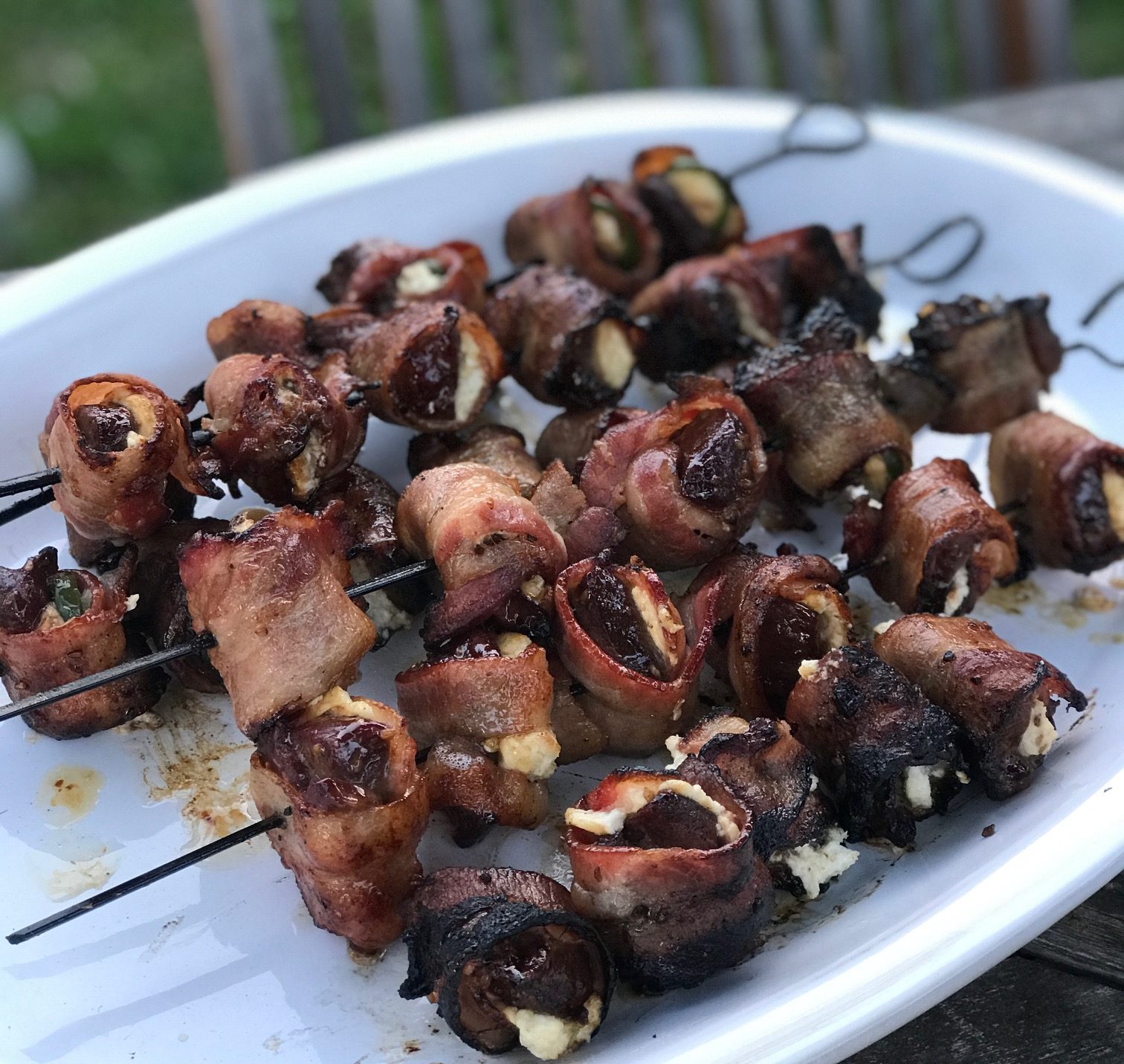 Slide one off and let it cool down a little then pop it in your mouth.  Enjoy the flavorful meat combined with the cream cheese touch and jalapeno spice.  The bacon flavor is what binds it all.
You'll pop them until you pop.  Guaranteed!
Enjoy!
El Bandido
P.S.
You can do this with dove as well and it tastes just a good. Our advice with dove is to easily cut the meat off the breast bone prior to marinating and cooking so that when you are ready to dive in you just pop them into your mouth rather than picking the meat off the cooked bone.
Ingredients:
Directions:
Bleed venison
Cut venison into 1.5″-2″ cubes
Marinade in Teryaki sauce (add Soy if so desired) for 3-6 hours
Cut bacon in half
Cut jalapeños into 1/4″ slices (thicker for more spice, skinnier for less)
Lay out one half of a bacon slice
Place one jalapeño on the end
Pinch off a finger of cream cheese and place on the jalapeno
Place a cube of venison on the cheese
Roll jalapeño, cheese and venison in the bacon
Place bacon on skewer making sure that it holds all parts of the kabob together
Rinse and repeat
Place kabobs on grill and cover for 3-5 minutes then open grill, rotate and finish off with a nice crisp on the bacon
Enjoy!