Podcast: Play in new window | Download
Subscribe: Apple Podcasts | RSS | More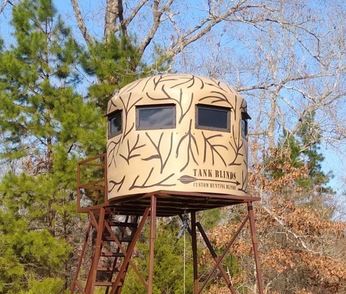 As you know we've been harping on how now is the time to get out and do the work needed to prepare for the coming fall season and we imagine for some of you that means re-vamping your blinds.
They've been sitting out there getting hammered throughout the up and down seasons over the years so no doubt they probably need some maintenance work each year.
Well if you've been needing to retire a blind or two and you're in the market for that replacement, you owe it to yourself to take a look at Tank Blinds.
On the most recent episode of the Feed Bandit Podcast we spoke with Aaron Gilbreath, the owner of Tank Blinds, about what they offer and the amazing benefits of investing in a Tank Blind.
As you know there are a gillion options out there for blinds but for your money and the ridiculous quality and value you get with a Tank Blind, there just doesn't seem to be anything better.
The construction of the blind itself along with the many custom options that you can add on to it just make it one of those things that you'll be glad you invested in now and for many years to come.
Take a listen and find out why Tank Blinds are the best blind on the market, bar none.
You can learn all about them (and take advantage of a special Feed Bandit discount) at our Bandit Gear & Services page here: https://feedbandit.com/tankblinds/
Can you think of an optional add-on that he hasn't thought of yet? How would you customize your Tank Blind?
Please let us know, we'd love to hear from you.
Email us or leave us a voicemail here: https://feedbandit.com/show.
If you haven't listened to the Feed Bandit Podcast yet please do so especially now that we're in the middle of the hunting lull of summer. We think you'll enjoy it!
You can listen to it by searching your favorite podcast app or just go here.
Enjoy!
Jimmy & Richard
Feed Bandit
Level Up Your Hunting Game & Gear
P.S. Don't forget to leave us a voicemail comment or question and we'll discuss it on a future episode of the Feed Bandit Podcast! Go here and send us a message today! https://feedbandit.com/show/
Stock media provided by Artmuns / Pond5