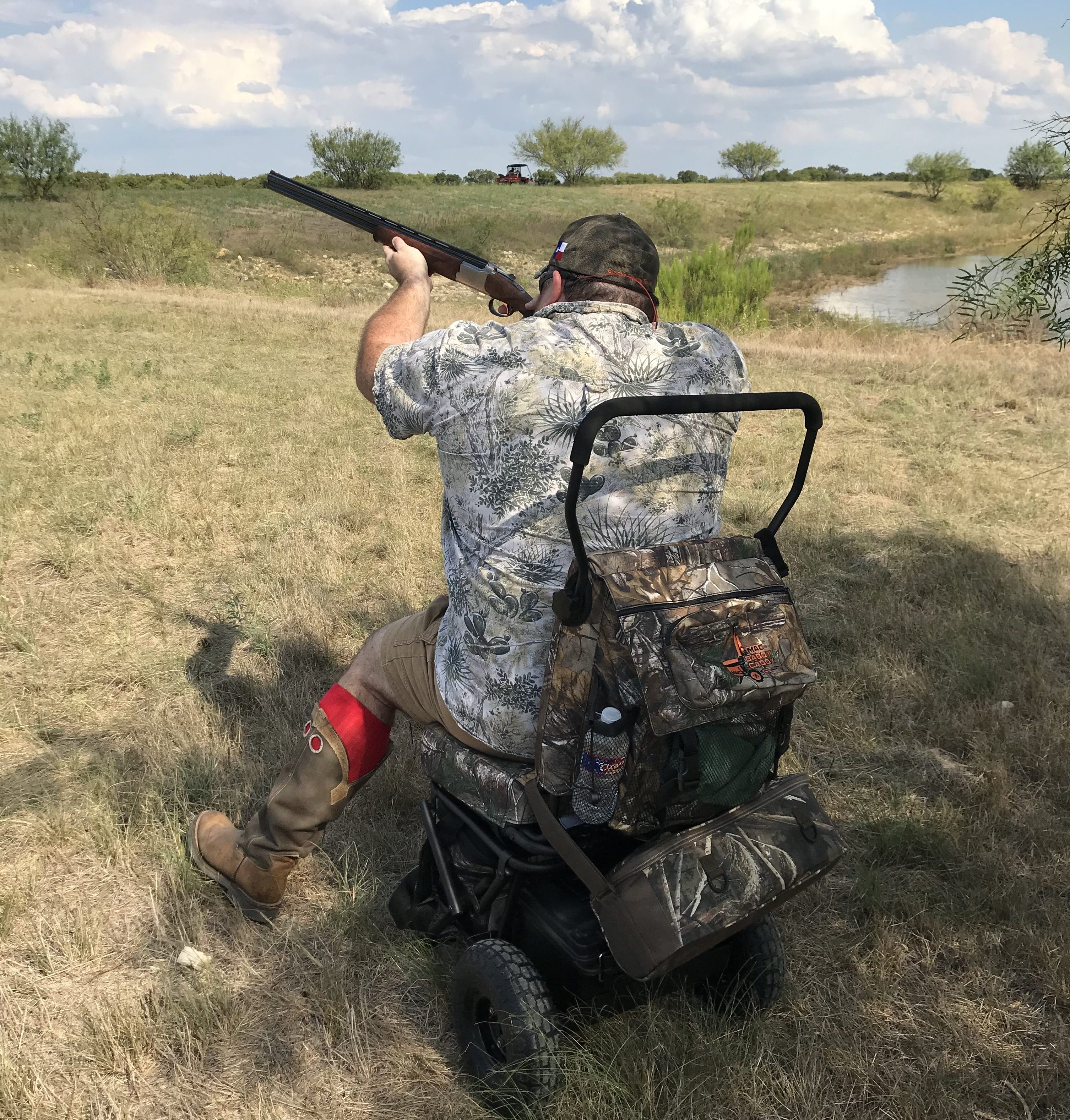 I asked for one thing for my birthday and one thing only.  I needed a better way to store and transport all of my dove gear…and I think I found it!
I am a Texan…a father…a husband and a dove hunting fanatic!
Every August since I was a kid I start to get that itchy feeling.  That feeling you get that can only be caused by something you absolutely love.  The Texas dove season is days…not months…days away!
To pursue my passion…obsession…I have gear coming out my ears plus all of my daughters items as well. So you can imagine a trip to the dove field or tank is stressful and requires at least an hour sometimes to gather our gear.  Bags, stools, buckets and boxes…its almost like I am moving in!
It feels like I have been searching for years to find something to help streamline my move back and forth to the dove killing grounds and I think the Mac Daddy Caddy By Hunter's Edge fits the bill!
All the Gear You Need on One Cart!
Where do I begin?  Unwrapping this beauty almost brought me to tears!  Are you kidding me?  A stool (that swivels) and has back support with a cooler and storage!?  Yeah, it was love at first sight!
My back is already happy and so is my rear end.  The seat on the Mac Daddy Caddy is like a bed!
Pockets…and More Pockets!
Its the little things in the field that get lost.  Ear plugs, sun glasses, TP, sun screen all are needed in the dove field but finding a convenient place to put all of those items so you don't have to search around is…was (for me!) a challenge.
I am very impressed with the pockets on the Mac Daddy Caddy.  There is ample room to store virtually all of my gear.  I also really like the vented water bottle holder.  The holder makes it very quick and convenient to get a quick drink between shots! You can also use this spot to put your phone or small speaker and stream some tunes.
Detachable Cooler = Great Idea!
I truly admire a company that puts thought into their products.  I can tell that the fine folks at Hunters Edge put actual thought and real life experience into the design of the Mac Daddy Caddy.
The removable cooler fits perfectly under the swivel chair and is very easy to remove.  The cooler is well built and can fit several bottles of water with ice.
What is nice about this design is that I can leave my Mac Daddy Caddy outside under cover and bring my gun/cooler in for the night.  Quick and easy!
Dry Storage
This tough box is perfect for those items you need to keep dry like shells and phones.  Its rugged and the latches are easy to use.
Come on 9/1/2018!
Well as you can see my dove hunting partner and bird dog both approve!
Chomping at the bit is an understatement.  I cannot wait to test out my new tool in the field.  I am confident that it will make my time in the field more enjoyable and effective!
Click here to check out the Mac Daddy Caddy at Hunter's Edge!
Stay tuned for a field test update!
*** UPDATE*** 9/1/2018
Well, the real test happened on the weekend of 9/1/2018 and the Mac Daddy Caddy did not disappoint!
Going back to earlier in my article one of my main needs was room for all of my gear. You'll notice that "fanny pack" of sorts wrapped around my chair.  That is a Mojo decoy pouch.  Its fits perfectly there and it easy to get the decoys in and out.
The other thing you might notice is that I am not a small human.  Yes sir, big boned, festively plump however you want to spin it the Mac Daddy Caddy held up perfectly under my weight even when I was spinning around looking for birds!
As I expected, the removable cooler is absolutely awesome as well.  I was able to stow my gear and take the cooler back to the house to prep it for the next evenings hunt.  I was able to put at least 10 bottles of water in it and it kept them cold through out the hunt.
Probably my only complaint would be the inability to easily detach the bird basket/shell pouch on the back of the chair. It is nice to be able to just dump out your shells over a trash can instead of pulling them out yourself. But hey, if that's my only complaint then maybe I'm just lazy.
The Mac Daddy Caddy is a must have for any dove hunter!
Corn Bandit
The Feed Bandit ranch, Rancho Bandido, is an outstanding place to test hunting gear and various wild game feed types on not only native Texas animals such as the whitetail deer and Rio Grande turkey but also on exotic game such as the black buck antelope and axis deer. If you'd like us to review your product, let us know!